1st term date sheet 2015 Click here do download…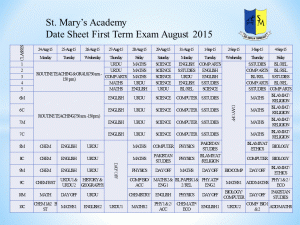 ---
Closing from: Monday, 15th June 2015.
Reopening on: Monday, 3rd August 2015 for (9th 10th (Camb/Matric), F.Sc-II A2) Monday, 17th August 2015 for (Playgroup to class 8)
DUES: Clear your dues otherwise you will not be allowed to sit in the exams. All the previous dues must be cleared till August.
MISSED PAPER: Any paper missed will be taken during the exams only and not after wards.
TIMINGS: Routine timings (7:30 a.m. – 1:30 p.m.) will be observed for classes 1-7 from 24th to 26th August 2015. The school timings for exam days will be 7:30 a.m. to 11:00 a.m.
TRANSPORTATION: Please take the children back home by 11:30 am to prepare for the next paper.
REVISION: Time for revision will be given to the students before the start of the paper according the length of the Paper.
PTM/RESULT DAY: 12th September 2015 (Saturday): Timings will be from 8:30am to 12:00 noon.